Fall 2016 activities:
• Our first meeting of Fall 2016 will be held on Tuesday Sep 20th at 4:30pm in LSF 202. Watch for flyers around the science building. We will have pizza, hold an election for club Secretary, and discuss what activities to have, and when, this semester. Hope to see you there!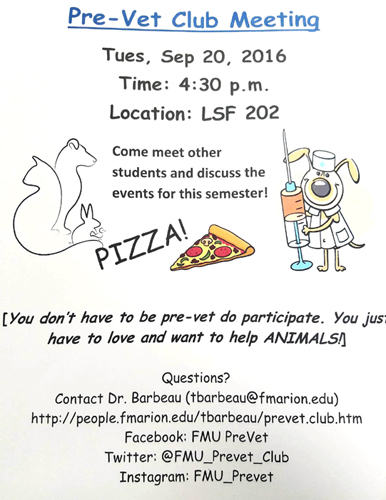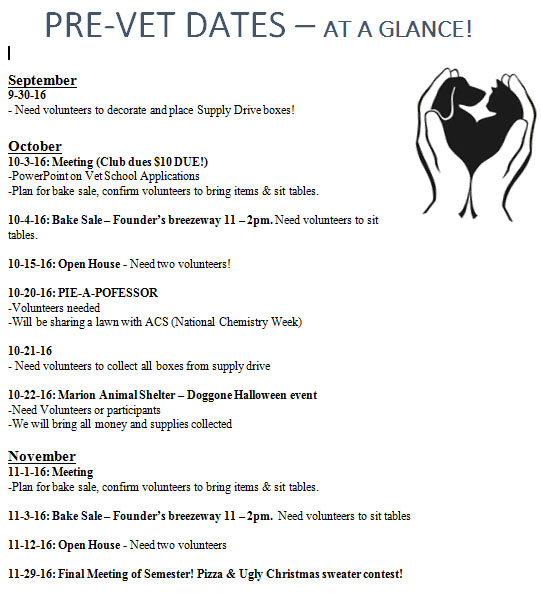 See dates below for more detail on our Fall, 2016 list of events:

September:
• Sep 30 (Fri) 12:30 - 3:30 - Need volunteers to decorate and place boxes for Supply drive around campus. We are collecting donations to benefit the Doggone Happy Animal Rescue. Boxes will be up between Oct 3 - 21.


October:
• Oct 3 - 21 - Supply Drive for the DogGone Shelter Intervention (Latta, SC). Check out the DogGone Shelter Intervention on facebook to see what good things this organization is doing for animals. they've recently expanded their rescue to cats!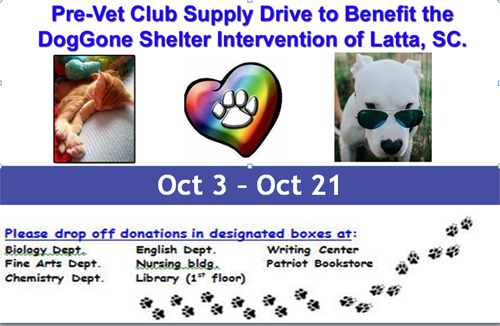 Our Supply Drive was a big success!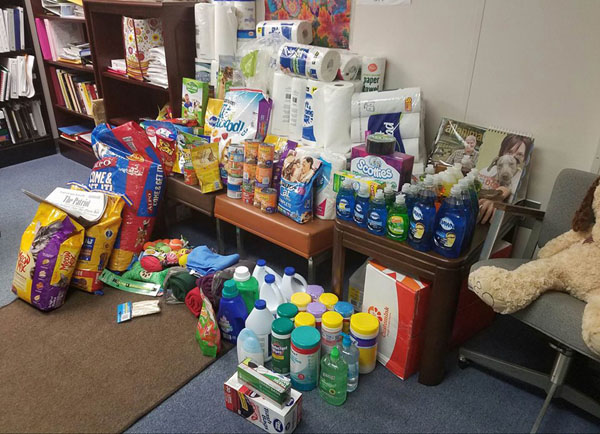 We raised the following for the DogGone Shelter Intervention of Latta, SC.:

| | |
| --- | --- |
| 1, 50 lb bag dog food | 3 blankets |
| 2, 4 lb bag dog food | 1 towel |
| 4 boxes/bags dog biscuits | 3 bottles laundry detergent |
| 1 box dog chow | 11 bottles disinfectant wipes |
| 1 box puppy chow | 2 bottles hand sanitizer |
| 6 bags dog treats | 2 bottles hand lotion |
| 8 cans dog food | 2 boxes tissues |
| 4, 13 lb bag cat food | 4 boxes trash bags |
| 7 small cans cat food | 1 roll duct tape |
| 7 large cans cat food | 10 large bottles dish detergent |
| 1 bag cat treats | 9 small bottles dish detergent |
| 12 dog toys | 50 rolls paper towels |
| 2 dog bones | |
| 2 collars | |
| 2 food/water bowls | |

•Oct 3 (Mon) - Club meeting in LSF 202 at 4:30 (Light snacks provided).
- Club dues ($10) DUE on this date (either at meeting or speak with Dr. Barbeau)
- Plan for Oct 4th bake sale, confirm volunteers to bring items and sit tables.
- Presentation (Bailey Carnes) - "How to Apply to Vet School"
Click HERE for meeting minutes, and HERE for a PDF of the "How to Apply to Vet School" PowerPoint.

• Oct 4th (Tue) - First bake sale! Founder's breezeway 11am - 2pm
- Thank you to the volunteers that baked items and/or came out to sit the tables!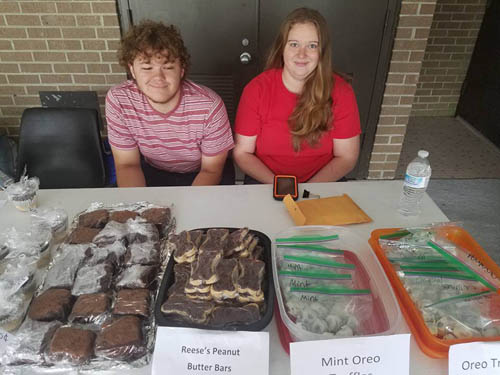 • Oct 11th - Club meeting and Guest Speaker, Dr. Anderson, an exotics veterinary specialist. Dr. Anderson is bringing some of her exotic animals to come visit the club! Don't miss this meeting!

• Oct 15 (Sat) - Open House! 8am - 1:30

• Thursday Oct 20th - Pie a Professor for Pets event 2 - 5pm on Founder's Hall! Fundraiser for DogGone Shelter Intervention located in Latta, SC. What a blast this was this year! Many thanks to faculty volunteers Kristin Kiely, Enoch Adogla, Nicole Panza, Eddile Harding, Jon Tuttle, Lisa Pike, and Chief Tarbell! You guys were awesome, and you helped us to raise $261! Click the following for facebook videos: Video 1, Video 2 , Video 3. Click HERE for a photo album from the Pie event.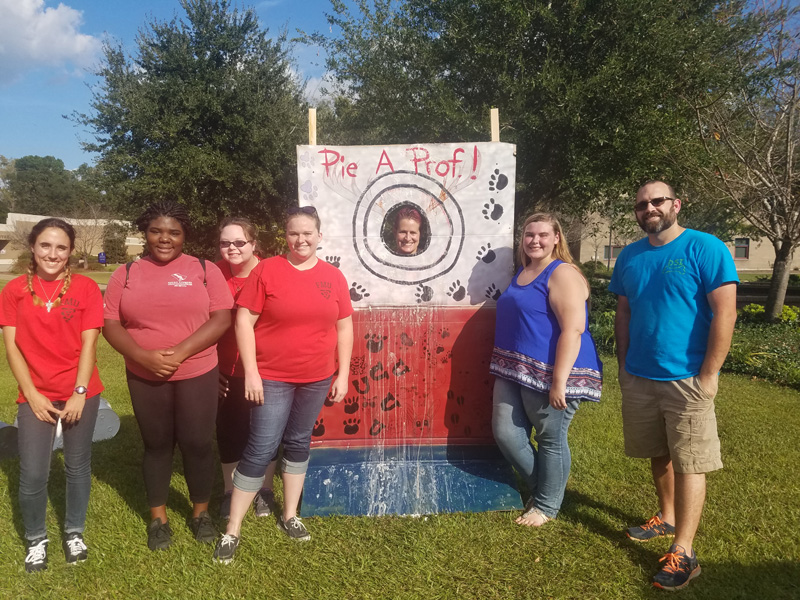 • Oct 22 (Sat) - Marion Animal Shelter Doggone Shelter Halloween Event 10am - 3pm
- come to participate or donate. Bring your favorite pet with a costume to compete for the best costume contest! You can also enter for the "best trick" contest. Or you can simply help out by walking dogs.
- We also need volunteers to help bring the donations from the supply drive and the Pie a Professor fundraiswer. C'mon - don't you want to glory hog all the awesome volunteer work and service you've provided the Doggone Happy Animal Rescue??? They will be happy to see you!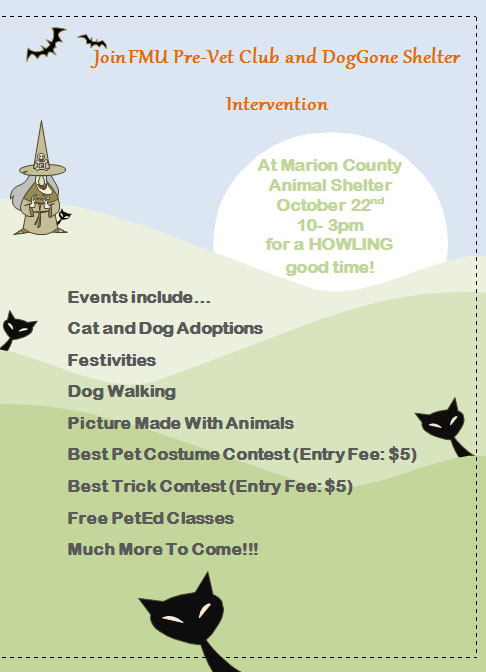 • Oct 28 (Fri) - 12:30 - 3:30pm. we need volunteers to help collect all the supply drive boxes (with donations) to bring to Dr. Barbeau's car for transport.

• Nov 1 (Tue) - Club meeting in LSF 202 at 4:30. Guest speaker Joanne Ludwick from Narrow Way Ranch - a certified pet therapist for special needs children and adults. What a great meeting! She brought animal visitors! A dog, ferret, bearded dragon (lizard), snake, and tarantula! Click HERE for meeting minutes.

Please bring your baked goods to student Chem lounge on 3rd floor of MSB by Thursday Nov 3rd at 9am!

• Nov 3 (Thur) - Bake sale! Founder's breezeway 11am - 2pm
- We need volunteers to sit tables during this time.

• Nov 12 (Sat) Open House! 8am - 1:30
- We need volunteers to sit table with poster and Pre-Vet club pamphlet handouts to tell students what we're about!

• Nov 29 (Tue) - Final Club meeting of semester. LSF 202 at 4:40pm.
Come for Pizza, Ugly Christmas Sweater contest, and gift exchange game (keep gifts low-cost!)
- Click HERE for meeting agenda.
- We've designed the Pre-Vet Club T-shirt for 2017! If you have paid club dues this fall semester, your t-shirt is covered, but you need to contact Dr. Barbeau (see email link above) to notify what size you need. If you haven't paid dues, speak with Dr. Barbeau. Also, you don't have to be a Pre-Vet Club member to buy a T-shirt. If you love this T-shirt and want to help support our club, contact Dr. Barbeau by Jan 27th, 2017 to place your order.


• SNIP needs volunteers for their Holiday Lights for PAWS!
- They need people to help serve as greeters, help with hot chocolate and cookies, and to help with parking and traffic at the event.
- They will have a 1/4 mile walk, through a winding trail filled with holiday lights and displays, going on daily between November 26th - Dec 24th.
- They STILL need volunteers for these dates: 11/27 12/08 12/16 12/20 12/21 12/22 and 12/23 (only need 3 or 4 for the 23rd).
- The time period is from 5:30 until 9:30 for each evening for setup and clean up afterwards. The public is invited to attend from 6 - 9:30, so final cleanup actually takes place a little after 9:30.
- Location is The Sholts Family, 3251 Mears Drive, in Florence (near Forest Lake).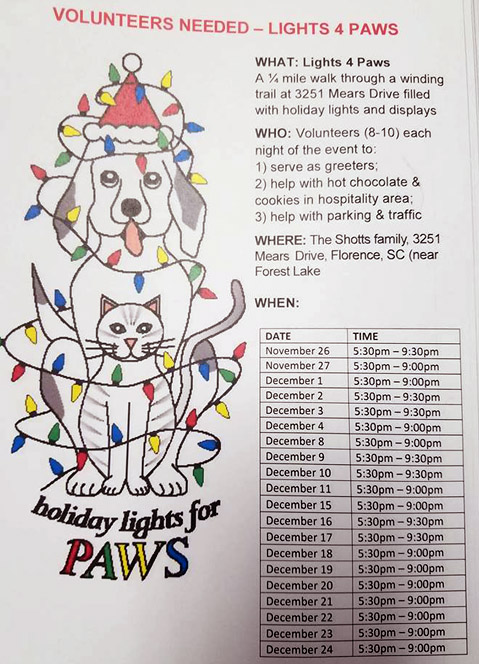 Spring Dates to Remember!
• Student Involvement Fair - Tues Jan 17th, 2017.
- We need 2 volunteers to sit the table and talk to students about the Pre-Vet Club: who we are and what we do.

• 1st Pre-Vet Club meeting of 2017 - Thurs Jan 19th, 2017.
- Elections of new club President, Vice President, and Secretary!
- Discuss T-shirt order (get quantity and sizes)
- Discuss activities for the semester.