I have several research interests. The first is the reproductive and endocrine system of ectotherms such as amphibians and fish. In addition to this, I investigate how exposure of ectotherms to environmental contaminants affects the reproductive and endocrine systems. Frog populations are reported to be declining in various regions of the world. Many frog populations have also been reported to have dramatic developmental deformities, such as extra or even missing limbs (see pic on right). Many factors are implicated in these declines and deformities. They include habitat loss from human encroachment, habitat degradation by pesticides, herbicides, and agricutural fertilizers, parasite infections, and even exposure to ultraviolet radiation. Click on the link below to read more.

---
I am also interested in the physiological adaptations of amphibians to arboreal habitats (pic on lower right). Click on the link below to read more.



---
During my Ph.D., I was fortunate to work with many exceptional undergraduate research students. At Francis Marion University I look forward to continuing my research examining how contaminants influence the growth, reproduction, and physiology of amphibians. I plan to expand the taxonomic groups of animals I investigate to include other aquatic vertebrates such as fish and snakes.

If you are interested in participating in a research project you should contact me to discuss it. Independent research projects for credit are available to students that have previously participated (volunteered) for a semester, or for students enrolled in the Honors Program at FMU. Research can be a fun and valuable experience, and teach you how to apply biological concepts you learn in your classrooms to actual scientific studies.

Click on the link below to see what research projects are available, and also see some of the cool projects completed by some of my previous undergraduate researchers!


Contact Me
Tamatha Barbeau
Department of Biology
Francis Marion University
PO Box 100547
Florence, SC 29501-

Ph: 843-661-4651
Fax: 843-661-4660
You can contact me by email.
A d eformed bullfrog (missing right hind leg) collected from a eutrophic pond in Florida.

---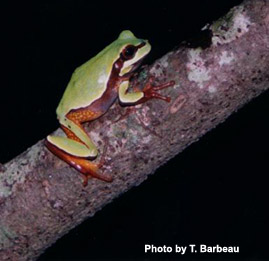 A Pine Barrens treefrog (Hyla andersonii) from Florida.
---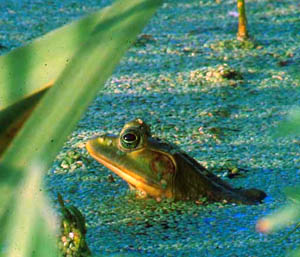 One of my research animals, the Pig frog (Rana grylio)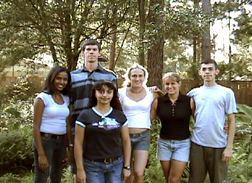 Some of my undergraduate researchers that braved the swamps at night looking for frogs!