Tamatha Barbeau, Ph.D.
Associate Professor of Biology
Coordinator: Pre-Veterinary Program
Coordinator: Program for Undergraduate Research Experience (PURE)
Pre-Vet Club

Francis Marion University
Pre-Vet Club

(Established 2014)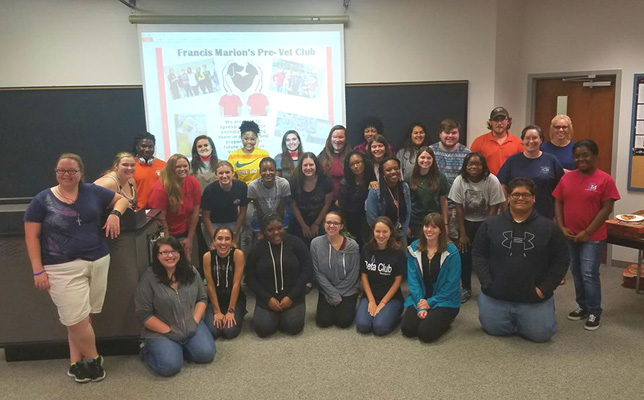 | | |
| --- | --- |
| President | Desiree Jones E-mail |
| Vice-President | Tyler Wright E-mail |
| Secretary | Bre'Anah Davis E-mail and Kendal Berry E-mail |
| Treasurer | Tamatha Barbeau E-mail |
| Public Affairs Officer | Beth McDanial E-mail |
| Faculty Advisor | Tamatha Barbeau, Ph.D., Pre-Vet Coordinator E-mail |

Club Officers: To keep up with SGA's Guidelines for Student Organizations please see the FMU's Student Organization Guide and Policy Handbook! It contains information about re-chartering the club each year, reserving rooms and facilities for club meetings and activites, submitting updated club reports when officer elections happen, downloading Fundraising Forms and Statement Reports, and other important club duties. If the club wants to plan an event on campus (fundraisers,invite speakers, or activities), put up posters around campus, get events listed in the campus paper, or place notices or advertisements on mass media open to the public, please consult the online Planning Events & Programs, Guidelines and Responsibilities. It is up to you to be familiar with rules, regulations, and procedures for club activities. If you ever have questions please ask the Associate Dean of Students, LaTasha Brand, or the Dean of Students, Teresa Ramey.


FMU Pre-Vet Facebook Page (Francis Marion Prevet)
Twitter = @FMU_Prevet_club
Instagram = FMU_Prevet

Spring 2017 activities:
I received a call about Lee County Animal Shelter in Bishopville looking for volunteers to come out and help!
They always need:
1. People waking dogs
2. playong with dogs
3. baths 4.cleaning
Really anything anyone is willing to do! Contact Heather for more information!

• FMU Club Involvement Fair is Thur Jan 19th fro 1 - 4pm in the UC. Please come to represent our club and talk to new students about what the FMU Pre-Vet club does! We need volunteers. Please contact Dr. Barbeau (E-mail) if you can help out, even if only for an hour..

• Our first meeting of Spring 2017 was held on Thursday Jan 19th at 4:30pm in LSF 202. [Click HERE for meeting minutes]
- We will take nominations for club President, Vice-President, Secretary, and Public Relations officers (for the following Fall 2017 semester), Serving as a club officer is valuable experience that also looks GREAT on an application!
- We will discuss scheduling club activities, such as remaining club meetings, 2 bake sales, Homecoming parade, the Falconry raffle, what shelter to sponsor with this semester's supply drive, and also a trip (tour) of the VCA Animal Specialty Center (a rehabilitation center) in Columbia, South Carolina!
- We will also discuss ordering club t-shirts (see below). If you have already paid your $10 club dues in the Fall 2016 semester, your t-shirt is free, BUT you must provide Dr. Barbeau (E-mail) with your t-shirt size. If you want a club t-shirt and have not paid dues, please contact Dr. Barbeau about ordering one. The deadline to provide Dr. Barbeau with t-shirt size and payment is Fri Jan 27th!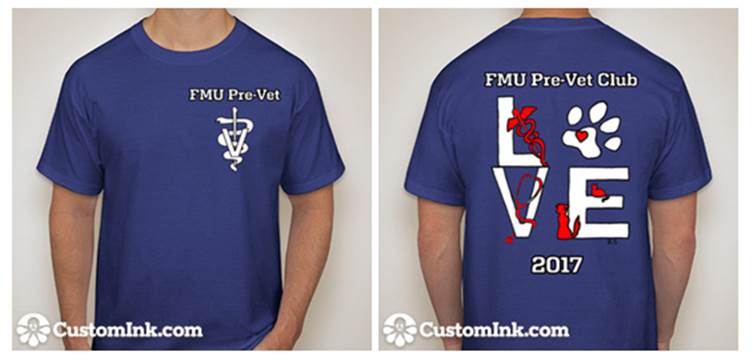 Club Meeting Thur Feb 2nd, 4:30-5:30pm in LSF 202: Guest Speaker Tyler Wright. Tyler will be giving a talk (maybe with exotic guests) about reptiles! C'mon out for reptile fun!

Homecoming Parade Sat Feb 11th FMU campus (parking behind cafeteria) starting at 11:45am. Our theme this year is 101 dalmations. Please contact club officers about helping with ideas, and making decorations for our golf cart. This is going to be a blast!

Bake Sale Thur Feb 16th, Fine Arts Breezeway from 10am - 1:30pm. We need help sitting the tables!

Darlington County Humane Society Supply Drive, from Mon Feb 27 - Fri Mar 10th. We need help decorating boxes, and then putting them at various campus offices on Friday Feb 24th!

Bake Sale Thur Mar 9th, Founders breezeway, from 10am - 1:30pm. We need help sitting the tables!

Club Meeting Thur Mar 9th, LSF 202 at 4:30pm: Elections of new officers (positions available = Vice president, Secretary, and Public Relations).

Thurs Mar 23rd we have 2 events:
1) Science Symposium (speaker Dr. Hewitt) - Dr. Hewitt (Westside Animal Hospital) is giving a presentation on heartworm disease. LSF 102 4pm.
2) Club Meeting LSF 202 at 5:00pm (please note this is later than our typical meeting time!): PIZZA and Guest Speaker Dr. Marita Anderson of Westside Animal Hospital. Dr. Anderson is a specialist on exotic animal veterinary medicine, and she will be bringing guest visitors! You DON'T want to miss this one!



---
Click the links below to see Club activities from previous semesers. We've been busy!
Pre-Vet Club Fall 2016 Activities
Pre-Vet Club Spring 2016 Activities
Pre-Vet Club Fall 2015 Activities
Pre-Vet Club Spring 2015 Activites
---

Written by Tamatha Barbeau, 2004. This web site is for educational purposes; if you own an image on this site and would like it removed or used with permission, or if you have comments, corrections, or suggestions, please contact me.
---