Tamatha Barbeau, Ph.D.
Associate Professor of Biology
Coordinator: Pre-Veterinary Program
Coordinator: Program for Undergraduate Research Experience (PURE)
Pre-Vet Club

Francis Marion University
Pre-Vet Club

(Established 2014)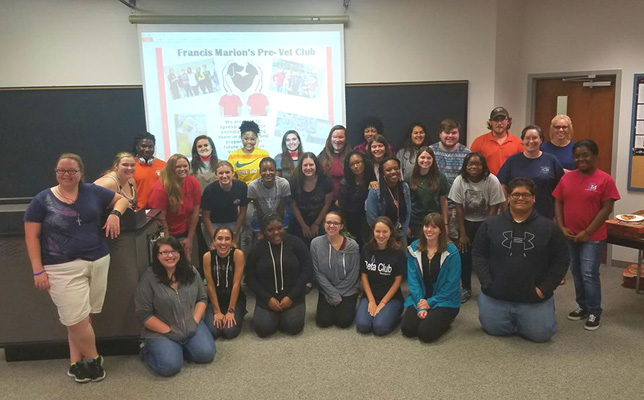 | | |
| --- | --- |
| President | Kendal Berry E-mail |
| Vice-President | Bre'Anah Davis E-mail |
| Secretary | Kaitlyn Jacobs Email |
| Treasurer | Tamatha Barbeau E-mail |
| Public Affairs Officer | We need a PA officer (to help put up flyers for our events on campus) |
| Faculty Advisor | Tamatha Barbeau, Ph.D., Pre-Vet Coordinator E-mail |

Club Officers: To keep up with SGA's Guidelines for Student Organizations please see the FMU's Student Organization Guide and Policy Handbook! It contains information about re-registering the club each year, reserving rooms and facilities for club meetings and activites, submitting updated club reports when officer elections happen, downloading the fundraiser form, and other important club duties. If the club wants to plan an event on campus (fundraisers,invite speakers, or activities), put up posters around campus, get events listed in the campus paper, or place notices or advertisements on mass media open to the public, please consult the online Planning Events & Programs, Guidelines and Responsibilities, and fill out space reques and service request forms (available in Bio office). It is up to you to be familiar with rules, regulations, and procedures for club activities. If you ever have questions please ask the Dean of Students, LaTasha Brand,


FMU Pre-Vet Facebook Page (Francis Marion Prevet)
Twitter = @FMU_Prevet_club
Instagram = FMU_Prevet

Fall 2019 Club Activities:

• 1st Club meeting, Thu Aug 29, 4pm in LSF 202. Click HERE for meeting agenda. Click HERE for meeting minutes.
> Our next club meetings (all of which are on a Wed at 4:30pm in LSF 202) are: Feb 13th, Mar 6th, Mar 27th, and Apr 10th. Mark your calendars!

• What a great first meeting! Thank you all who came out yesterday afternoon. We've got an exciting semester planned. The meeting minutes include the following:

• Next club meetings will be held, on Thursday at 4pm in LSF 202, on Sep 12, Sep 26, Oct 10, and Nov 14. Click HERE for meeting itinerary.

• Our bake sale will be held on Wed Sep 25 between 10am - 1:00pm in the Founder's breezway. We will need people to bake items (cookies, brownies, cupcakes, etc...) or you can buy them, to offer in the bake sale. We would need these items by Tue (Sep 24) or before 10am in Sept 25. Then we need the tables covered between 10am -1:00pm. Any volunteers would be most appreciated!

• We are planning to host a fundraiser for the Darlington County Humane Society (DCHS) with a kissing booth and Kathy McCoy's adorable service dog-in-training Edna! We have not figured a date and time yet, but we will soon.

• We will also put out drop boxes for a Supply Drive to benefit Lucky Dog Rescue between Sep 23 - Nov 26. I need volunteers to help decorate boxes and put them around campus.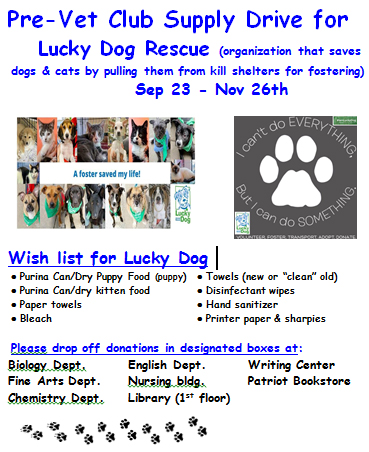 • Joanne Ludwick, the pet therapist from NarrowWay Ranch, visited us on Thur Oct 10th! What fun!



• We will host, for the second semester in a row, the Pause for Paws Event! It will likely be held between 12 - 3pm on the Monday before final exams (Dec 2).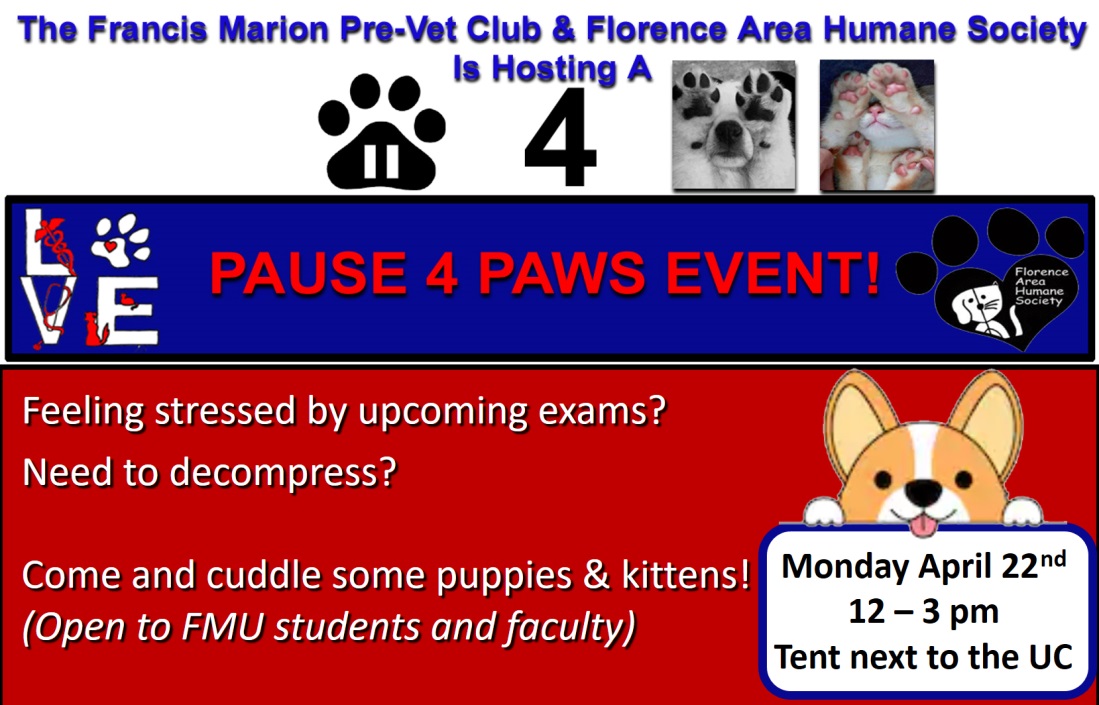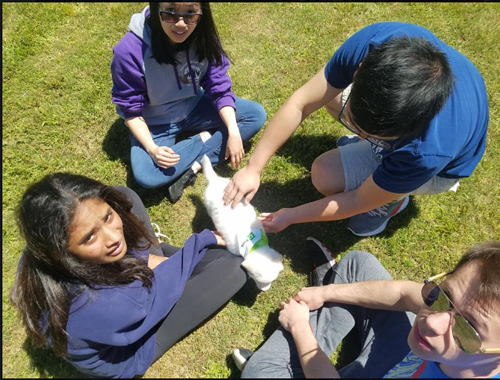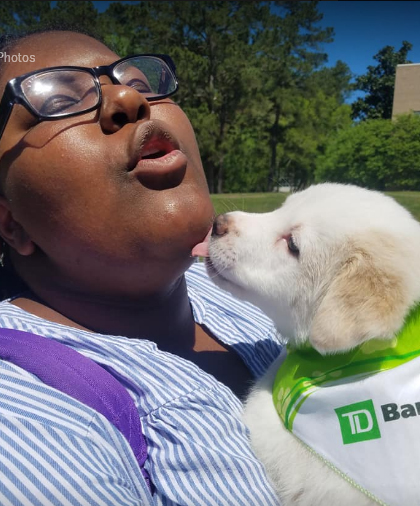 Recap of important highlights of our Spring 2019 semester!

Whoo Hoo Pre-Vet Club!
At the end of the Spring 2019 semester, we won Best Student Organization of the Year! We also won 3 trophies for best overall concept, best representation of a them, and most creative for FMU's Homecoming Parade!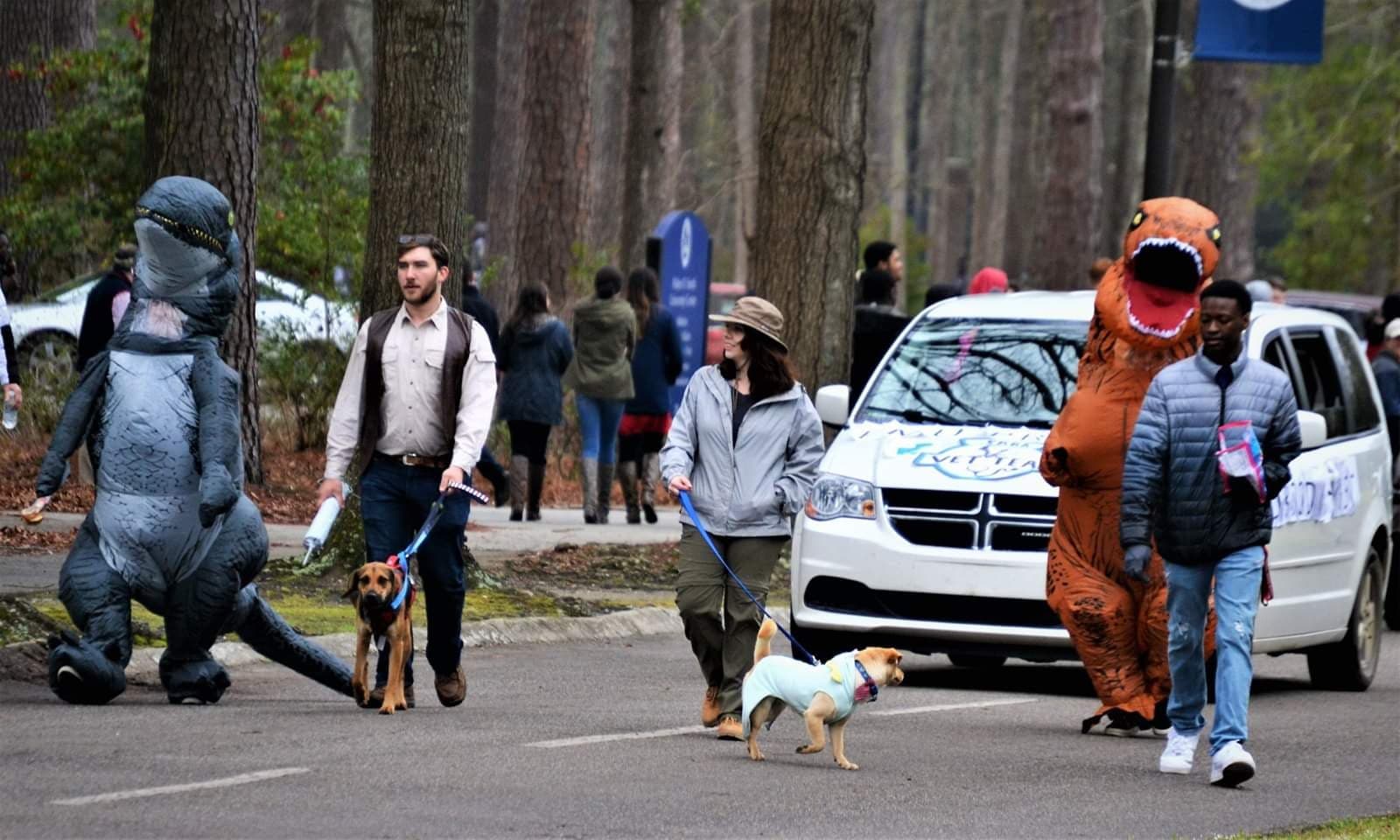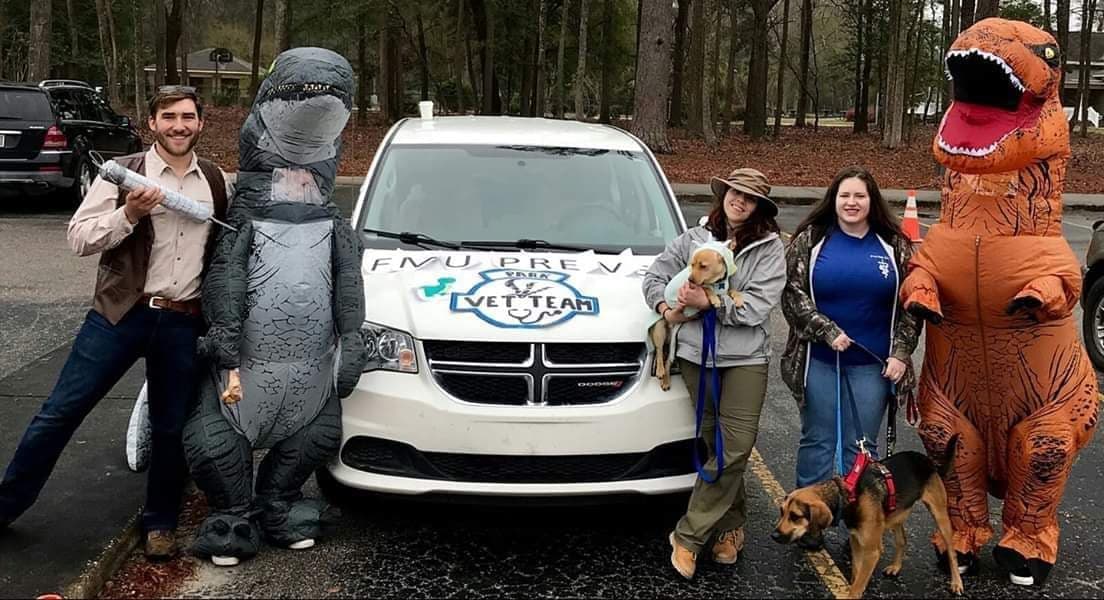 ---
Click the links below to see Club activities from previous semesers. We've been busy!
Pre-Vet Club Spring 2019 Activites
Pre-Vet Club Fall 2018 Activities

Pre-Vet Club Spring 2018 Activities
Pre-Vet Club Fall 2017 Activities

Pre-Vet Club Spring 2017 Activities
Pre-Vet Club Fall 2016 Activities
Pre-Vet Club Spring 2016 Activities
Pre-Vet Club Fall 2015 Activities
Pre-Vet Club Spring 2015 Activites
---

Written by Tamatha Barbeau, 2004. This web site is for educational purposes; if you own an image on this site and would like it removed or used with permission, or if you have comments, corrections, or suggestions, please contact me.
---